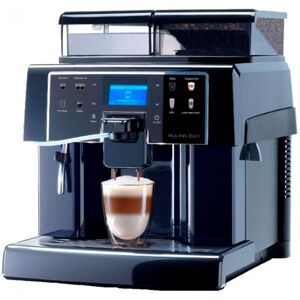 Saeco Coffee machine Saeco "Aulika Evo Focus"
Features and technical details
Coffee machine Saeco "Aulika Evo Focus" is a perfect combination of modern design and reliable technology. Created for offices and small restaurants. MODERN AND INTUITIVE INTERFACE New modern interface with backlit icons allows easily select desired drinks. Espresso, double espresso, black coffee, cappuccino or latte macchiato and hot water for tea - just at one touch!MORE COFFEE IN NO TIMEEnhanced water and coffee tanks allow continuously enjoy coffee much longer. Due to the presence of double hydraulic circuit milk-based drinks are prepared faster - there is no need to wait after coffee preparation for milk system to heat tup. EASY MAINTENANCEIn the Maintenance Accessories set, suplied with the machine, you will find everything you need: water filter, lubrication grease and cleaning tablets for the brewing unit.
0 of 0 results from 0 retailers
Sorry, we do not have any result for your search.
Similar products might interest you