TONTARELLI 8085547909 Omnimodus Two Compartment Storage Unit, 79 x 43 x 46 cm, Chocolate
Features and technical details
Material: polypropylene Colour: Chocolate Product description: The Omnimodus base unit can be installed both inside (TV bench) than outside due to its fine finish (imitation wood) and material (polypropylene). Omnimodus is weatherproof and UV treated. Each shelf supports 30kg. Quick and easy installation.
2 of 2 results from 2 retailers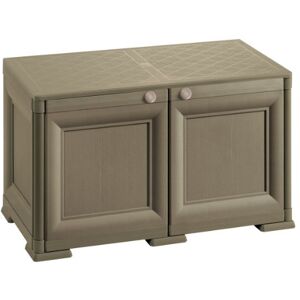 TONTARELLI 8085547909 Omnimodus Two Compartment Storage Unit, 79 x 43 x 46 cm, Chocolate
Offer updated on : 12/2/2020
Delivery: In stock.
FREE Delivery in the UK on orders over £20.
Offer details
Similar products might interest you