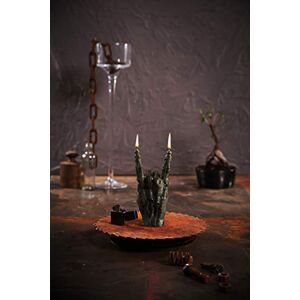 Candellana Black Zombie Hand RCK Gesture Candle
£17.99
- £22.94
(inc P&P)
Features and technical details
Decorative candle geometric shapes harmonise well with modern interior decoration. Details - High precision and accurate reflection of the size. Handmade in the EU Produced craftsmanship from certified European materials. Perfect gift an original gift for birthdays, anniversaries and other occasions.
2 of 2 results from 2 retailers
Candellana Black Zombie Hand RCK Gesture Candle
Offer updated on : 11/29/2020
Delivery: In stock.
FREE Delivery in the UK on orders over £20.
Offer details
Black Zombie Hand RCK Gesture Candle
Offer updated on : 11/29/2020
Delivery: 2 - 3 days
Offer details
Similar products might interest you