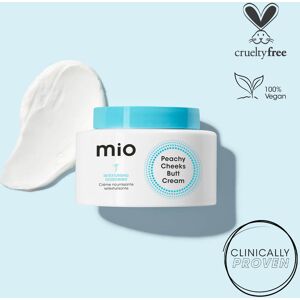 Mitac Mio Peachy Cheeks Butt Cream 120ml
£19.45
- £24.00
(inc P&P)
Features and technical details
Working to improve your skin's texture, the Mio Peachy Cheeks Butt Cream is packed with skin-loving ingredients. Clinically proven, the formula leaves the skin feeling tighter and more toned, with a revitalised appearance. Indian Fig extract and Monk's Pepper Berry work in harmony to hydrate dry skin, while Caffeine helps to smooth and firm. Fuelled by naturally firming antioxidants, the cream also provides protection against environmental aggressors. Gently exfoliating the skin's surface, this botanical blend buffs away dead skin cells to leave the body feeling smoother and plumper. Infused with a 100% natural fragrance, the cream cloaks the body with an uplifting citrus perfume. What's more, the jar is 100% recyclable, helping to combat waste. *Tested on 30 respondents in a 4 week independent clinical trial. Made in the UK. Important advice: Please be aware that this product does contain nuts.  
3 of 3 results from 3 retailers
Mitac mio Peachy Cheeks Bum Booster Cream 120ml
Offer updated on : 7/27/2021
Delivery: Standard
Offer details
Mitac Mio Peachy Cheeks Bum Booster Cream
Offer updated on : 7/28/2021
Delivery: Temporarily out of stock. High demand product. We are working hard to ...
Offer details
Similar products might interest you